Discover Castellane
and its surroundings
Alpine freshness
and Provencal sweetness
With its crown of mountains, Castellane already has its head in the Alps. Once protected by fourteen towers, it has a rich heritage. Discover the Porte de l'Annonciade, the clock tower and the church of Saint Victor, continue past the church of the Sacré Coeur to the Pont du Roc. Then sit on a terrace, on one of the small squares to enjoy the lively atmosphere of this city of character. You prefer a little peace and quiet? Opt for the pentagonal tower and its terraced gardens.
Beyond the roofs of the village, the panorama opens onto the entrance to the Gorges du Verdon.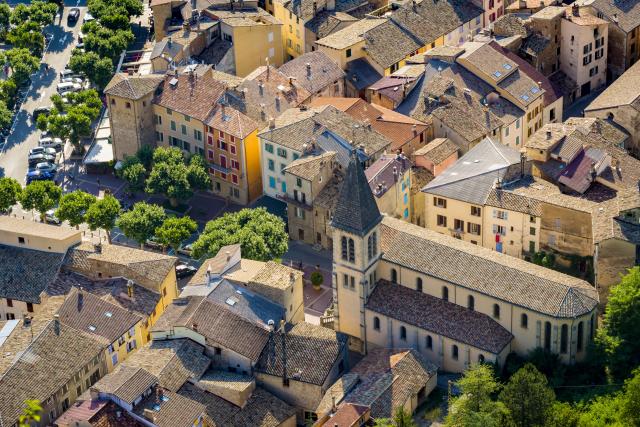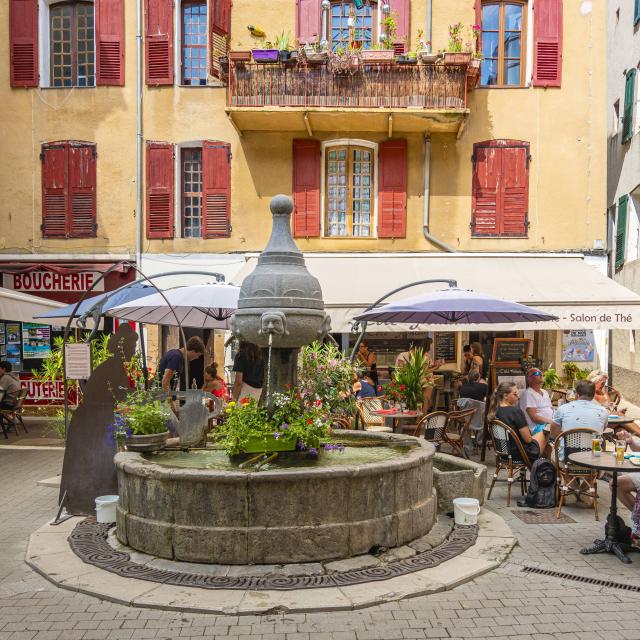 Castellane champagne is not produced… in Castellane, we deplore it as much as you do, but we have many other local products!
Le Roc, emblem of Castellane
It's hard not to be impressed by the Roc, a rocky outcrop which, from the top of its 184 meters, dominates the village.
A small climb of 40 minutes to reach the top and the children can even ring the bell of the chapel (without excess anyway…).
In summer, you will appreciate the freshness of the interior and the water point.
You will see the statue of the virgin, struck down around 1970 and on the side the remains of the city in the middle ages, Petra Castellana.
You will especially enjoy a 360 ° view!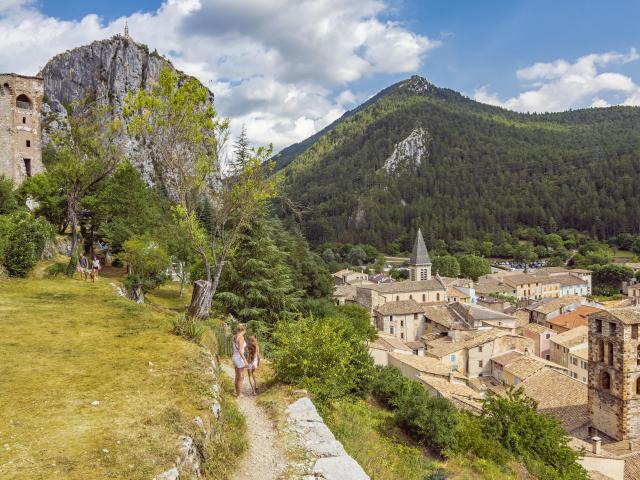 It's decided, you're going to tackle the Roc with your little one: don't skip the BB door stage, otherwise it's going to be a long road to the cross for you! Rental is possible at the Au pied du roc shop.
Did you know ?
Both in the perimeter of the Regional Natural Park of Verdon and that of the Geological Reserve of Haute Provence, Castellane conceals the treasures of nature.
The valley of the sirens for example. Are you intrigued?
Head to the Maison Nature et Patrimoines to learn all about the marine mammals that lived in the region 40 million years ago and are believed to be at the origin of the myth of the mermaids.
Accommodation in
Castellane
With the family in a campsite, as a couple in a charming hotel, with friends in a spacious group gîte, in holiday rentals, in guest houses, in yurts or in refuges close to an observatory… in Castellane and the surrounding area there is a prodigious range of accommodation on offer for holidays close to the Gorges du Verdon and the Lac de Castillon.
Prepare your stay in
Castellane
Practical information
Address
2 Boulevard Saint Michel, Castellane
Opening hours
Monday

Tuesday

Wednesday

Thursday

Friday

Saturday

Sunday
In April and October
Monday to Saturday from 9am to 12pm and from 2pm to 6pm
Public holidays from 9.30am to 12.30pm
Closed on Sunday

In May, June, from 27 August and September
Monday to Saturday from 9am to 12pm and from 2pm to 6pm
Sunday from 9.30am to 12.30pm
Public holidays from 9.30am to 12.30pm

In July until 26 August
Every day from 9am to 6.30pm non stop

From November to March
Monday, Wednesday, Thursday and Friday from 10am to 12pm and from 2pm to 5pm
Closed on Tuesdays, weekends and public holidays
More